Jeff Masich says, "It would be my privilege to help you sell Arizona, Realtor®, Graduate of the Realtor Institute (GRI), Certified Short Sale Negotiator (CSSN) and has a business bor purchase real estate in Arizona". Besides the desire to help people, Jeff Masich is a licensed Real Estate Broker in ackground with an MBA and a BS in Accounting that helps Jeff meet the challenges of finances and negotiating price and terms for his clients.
Jeff Masich was recognized in 2018 by HomeSmart as one of the Top 15 agents
Jeff Masich, past Diamond Club HomeSmart
Jeff Masich is a "Multi Million Dollar Producer" with HomeSmart
Jeff Masich is a "Multi Million Dollar Producer" with HomeSmart, the #1 largest real estate broker Phoenix metro. As a Diamond Club award winner, Jeff was honored in 2018 as one of HomeSmart's "Top 15" agents. Jeff loves Arizona and helping people achieve their dreams whether it is selling their home or land and/or moving on to the next adventure or buying another home or land. As an Arizona resident beginning in 1971 and McCormick Ranch in Scottsdale since 1986, Jeff knows Arizona.
Associate Broker, REALTOR®, MBA, GRI, e-PRO®
License BR632450000
Phone/Text 480-242-6500
JeffMasich@ArizonaHomesLand.com
HomeSmart®
10601 N Hayden Rd, Ste I-100
Scottsdale, AZ 85260
REALTOR® (National Association of Realtors)
Member Scottsdale Association of Realtors
Member Arizona Association of Realtors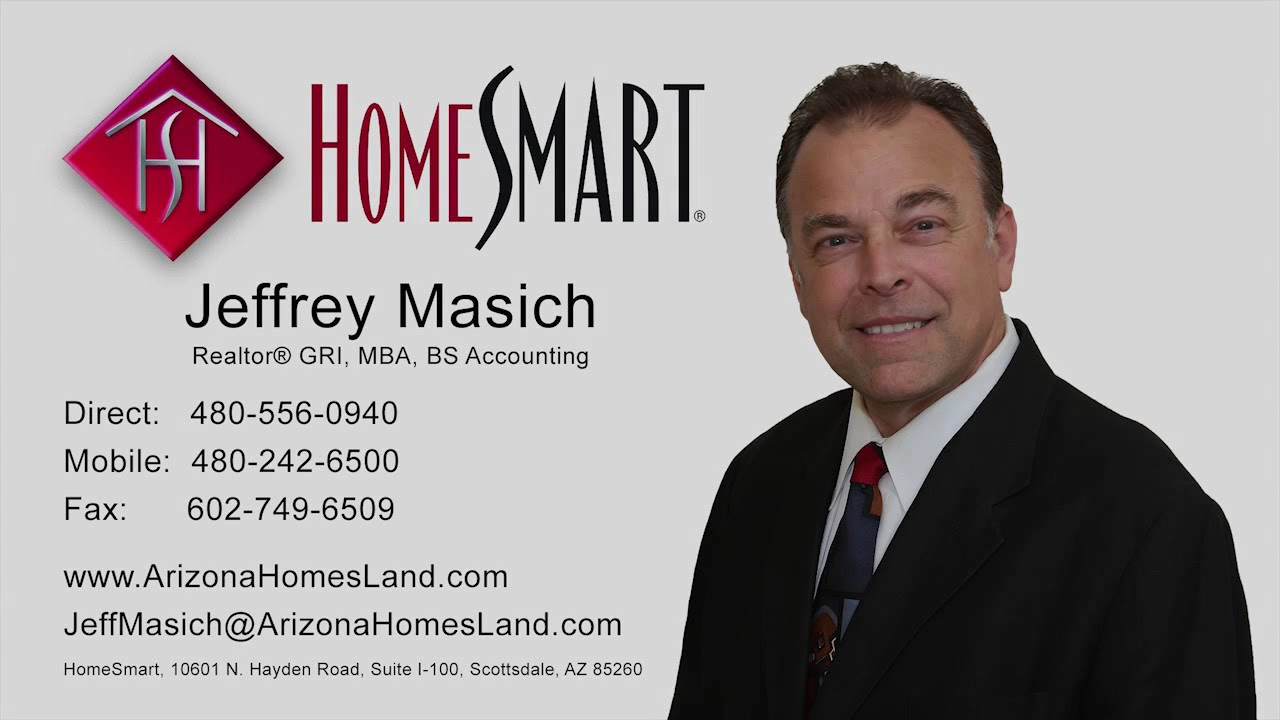 Jeff is a business person with years working for Fortune 500 Companies, Technolgy Companies and 'Non Profits' as an Officer, Director, or Board Member.
Jeff has been involved with contracts, secured lending, credit and negotiations his entire business life.
Past Degrees and Certifications:
o Associate Broker, Licensed Arizona Department of Real Estate
o MBA, Pepperdine University, Malibu, California
o Graduate Realtor Institute (GRI)
o BS Degree in Accounting, University of Arizona, Tucson, Arizona
o Licensed Real Estate Agent, State of Arizona
o REALTOR®, National Association of Realtors o Member Scottsdale Association of Realtors
o Member Arizona Association of Realtors
o Certified Short Sale Negotiator (CSSN)
o Graduate HomeSmart University
o Certified Credit Executive (CCE), National Association of Credit Management
o Certifed Cash Manager (CCM), Treasury Management Association
Community Involvement and/or Non Profit Board of Directors (Current and Past):
o Chairman, Villa La Playa Neighborhood Enhancement Committee, McCormick Ranch, Scottsdale
o Villa La Playa Neighborhood Watch Coordinator with the City of Scottsdale
o President, Computing Technology Industry Association
o Treasurer, Big Brothers Big Sisters of Central Arizona
o Board Member: Arizona Treasury Management Association
Meet Jeff Masich, Associate Broker with HomeSmart. Expect results...with a smile!
Testimonials for Jeff Masich
Maria
07/06/2018
Maria reviewed Jeff and Adriana Masich 7/06/2018, Client, Seller
"Thank you Jeff, we are the one's that can never repay your kind heart, your hard work and your expertise with getting the house sold so quickly. May God forever bless you and Adriana. Thank you a million times."
Rena W
02/20/201802/20/2018
Rena W reviewed Jeff Masich 02/20/2018 Client, Buyer
"Jeff, Thank you so much for finding me the perfect home! I fell like I won the lottery! You are the best Realtor ever!"
Dan and Jenifer
07/14/2015
Dan and Jenifer reviewed Jeff Masich 07/14/15 Client, Buyer
"We can't thank you enough for everything you have done for us to assist in finding our new home. You went above and beyond any of our expectations showing that you truly did care about this life-changing decision. Your passion for what you do is admirable and shows through in the service you provide. By taking time to learn what Jenifer and I enjoy and prefer in a home, you shortened the process substantially and got us in our home with a week to spare on our deadline! I look forward to calling your for our next RE endeavor and will recommend you to anyone. Thank you again, Jeff...for everything and more. Kindest regards, Dan and Jenifer"
cwd149
05/01/2013
cwd149 reviewed Jeff Masich 05/01/2013 Client, Buyer
"Jeff is a true professional in that he does what he says he's going to do and make sure that he listens to his clients request. My wife and myself were 100% satisfied with the service and attention Jeff provide us and he will be our first choice should we ever need to sell or buy in the future."
seven.bridges
04/22/2013
seven.bridges reviewed Jeff Masich 04/22/2013 Client, Buyer
"Jeff is by far the best Realtor I have ever worked with. He is very knowledgeable of the Phoenix market and provided valuable insight and advice throughout the entire purchase process. Jeff is very professional, and a man of integrity and moral standards. I would recommend him to anyone looking to buy or sell a home."
aambriz04
04/18/2013
aambriz04 reviewed Jeff Masich 04/18/2013 Client, Renter and later a Buyer
"Jeff was so helpful and reliable when we were looking for a rental house, we have used him on two separate occasions and plan on having him as out agent when we buy a home. He is great!"
ykorell
04/14/2013
ykorell reviewed Jeff Masich 04/14/2013 Client, Seller
"I was referred to Jeff through a family member. We had interviewed several realtors, but were moved to hire Jeff because of the good impression he made, and the services offered by HomeSmart. This proved to be an excellent decision. Our home sold very quickly, and Jeff was extremely professional in every aspect of the transaction. I would recommend his services without hesitation."
Celebrationsbycynthia
04/14/2013
Celebrationsbycynthia reviewed Jeff Masich 04/14/2013
"Jeff Masich has been a friend since 1986 as well as a real estate agent for a recent listing. I highly recommend Jeff to represent you for your real estate transactions. Jeff is truly competent and trustworthy. He is a professional that understands the complexities of this profession. His high ethics serves him well, and I knew that he would be there for the many concerns and questions that would arise during this transaction. Jeff's integrity and knowledge of the market is evident, and he kept me informed on a regular basis. I will continue to work with Jeff Masich on any further real estate projects.....I trust him completely."
mary0626
04/12/2013
mary0626 reviewed Jeff Masich 04/12/2013 Real Estate Pro
"Jeff, is an excellent Realtor. He is honest, good listener and loyal. He is always willing to help and answer all your questions. I use his services all the time."
shannlc32
04/12/2013
shannlc32 reviewed Jeff Masich 04/12/2013 Client, Renter
"Jeff was a delight to work with! He went above and beyond for me and a family member. He has the client's best interest in mind and will persevere until all parties are satisfied. I recommend Jeff to anyone seeking a proactive real estate agent."
jla2732
04/12/2013
jla2732 reviewed Jeff Masich 04/12/2013 Client, Buyer
"Jeff was a very thoughtful Agent and spent a great deal of time with me working thru the process of buying a home. Each prospective contract was reviewed and the home thoroughly considered as we went thru the process. We must of submitted 15 bids until the final one was accepted and he spent a great deal of time with me on each one, counseling me and adding solutions to the process.
I highly recommend Jeff as my realtor. Sincerely, Jeri Anderson"
hppjs2011
04/08/2013
hppjs2011 reviewed Jeff Masich 04/08/2013 Client, Buyer
"Jeff was there when we needed him. He was on top of everything at all times. Purchasing a short sale never seems to go smoothly. But when you have the right agent it all seems to come together. We would both highly recommend him to anyone looking for that "right" match in a Realtor."
Brett Wian
04/06/2013
Brett Wian reviewed Jeff Masich 04/06/2013 Client, Renter
"His knowledge of the Valley was very entertaining as well."
gvmasonry
04/01/2013
gvmasonry reviewed Jeff Masich 04/01/2013 Client, Landlord
"We were truly blessed with having an amazing experience hiring Jeff as our realtor. Before meeting Jeff, we had an exhaustive extensive search trying to find the right realtor to lease our home. After hiring Jeff, he immediately sought out to accomplish the task in leasing our home. We continued through out the leasing process to be pleased with his dedicated and hard work as our leasing realtor. He has a great deal of in depth knowledge of the real estate market. This capability proved to be crucial in completing a positive real estate experience. Jeff has demonstrated in every way has a high degree of professional: knowledgeable, responsive to our needs, patient, honest, courteous, committed, and able to get things done."
Jalepullen
03/30/2013
Jalepullen reviewed Jeff Masich 03/30/2013 Seller
"Jeff is ethical, honest and a sincere friend. He keeps long term relationships because of his excellent attitude."
Mini Maestas
03/30/2013
Mini Maestas reviewed Jeff Masich 03/30/2013 Client, Seller and Buyer
"Jeff provides legendary customer service, the kind of unique and genuine sort of personal care and attention that clients tell stories about! Thank you Jeff for your help."
Ray
03/29/2013
Ray reviewed Jeff Masich 03/29/2013 Client, Buyer
"Jeff is the most attentive, professional, knowledgeable, and caring real estate agent I have ever worked with. There are many more superlatives I could use to describe him, but the one thing I felt throughout my buying experience with Jeff, I was his most important client. I could not recommend him more highly!!"